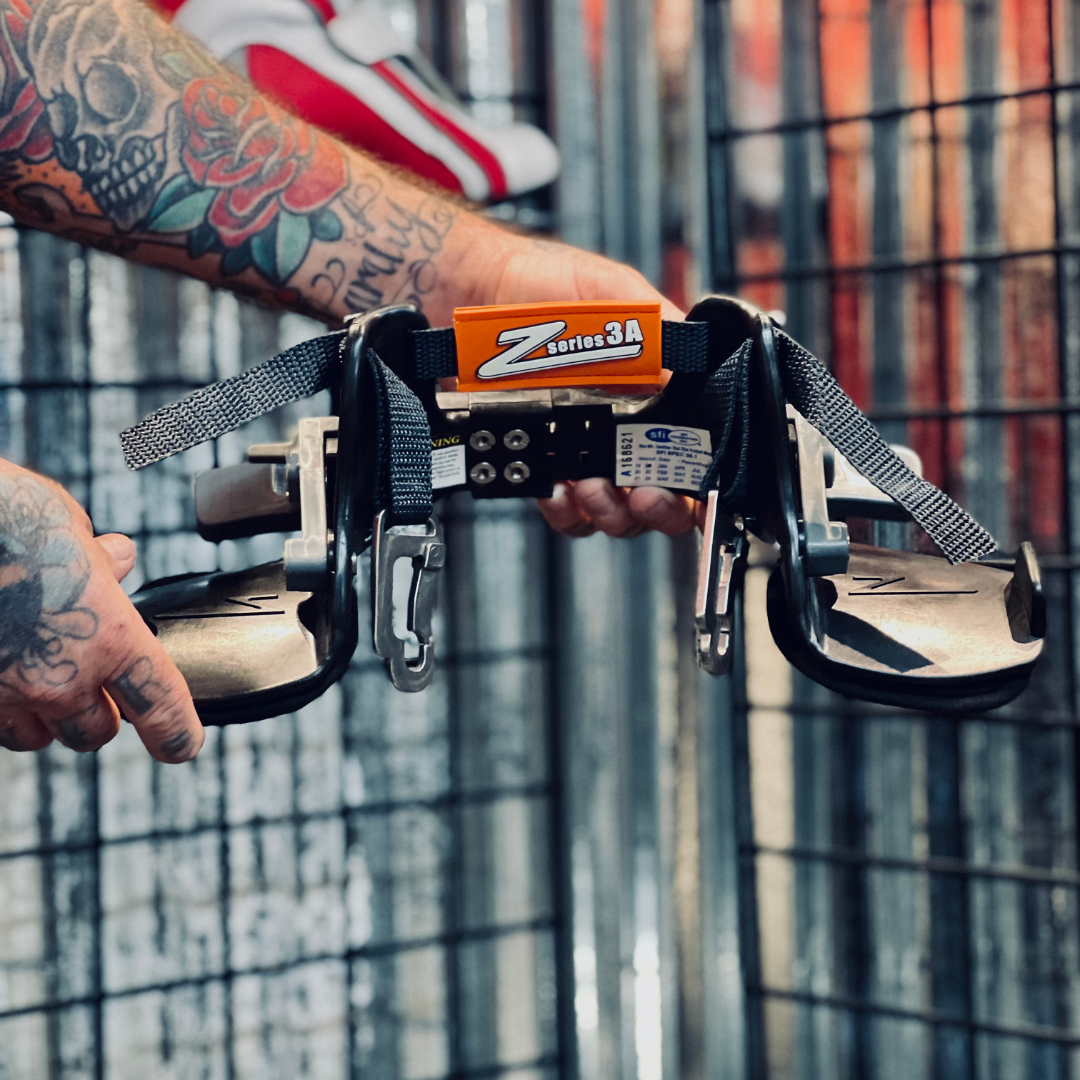 Why do you need a head and neck restraint?
This is a question that rolls through the pits, garage, and most every trade show in racing weekly.  Some guys are wearing them, some guys aren't. So, what's the big deal?  I mean you've been racing for yers and haven't needed one. Why now? Not to beat the drum or jump on the bandwagon, but we lost likely the greatest racer we've ever seen to a basilar skull fracture. The exact injury a head and neck restraint is designed to prevent.   Basilar skull fracture?  What the heck is that?   Imagine your spinal cord attachment to the base of your brain and skull. This is very sensitive to twists and turns.  Unfortunately, until the introduction of the SFI 38.1 certified devices there was no solution to reduce this risk.  We lost Dale SR, Kenny Irwin Jr, and Adam Petty all to the same exact injury.  It was high time something was done about this. 
The first guy to attack this problem was Bobby Hutchens, at the time a lead engineer for RCR in Welcome, NC.  With the recent loss of their driver, he began to study this injury and its effects.  Using a series of straps that resembled that of a parachute harness he created a system that reduced the risk of this life ending injury.  It was very affordable but quite difficult to use.  Soon thereafter Dr. Bob Hubbard, PHD and Jim Dowing from the Atlanta area introduced the HANS device.  It was the first fabricated part that was lightweight and easy to use.  It quickly became popular as we truly needed this level of safety device. A few years later, safety giant Simpson purchased Hans and the rest is now history.   Even though the HANS device was indeed first, that didn't necessarily make it the bet or only choice.  A Canadian engineer by the name of Trevor Ashline quickly jumped into his designing mind and introduced the R3. This device allowed the driver to wear it like a backpack or mount it in the seat so it would stay put. Later, modified versions of this were made and named the Hybrid, which many of us see today. As with the HANS device, Trevors products and ideas were purchased by Simpson.
With the market heavily dominated by Simpson, this left few opportunities for the grass roots racers to buy an affordable device. Even though plastic models were introduced, prices were still gently out of reach for most Saturday night racers.   This is where we see the introduction of devices by Zamp.  Many of you have seen the helmets, as he is the fastest growing helmet brand on Earth.  With a more value conscious product and truly listening to the racers through massive distributors like Velocita that pioneered the dirt helmet program, to Speedway, Day Motorsports and regional Dealers like Bernheisel Race Components, Zamp has been able to win the lion's share of the helmet and head and neck market at the weekly level.   ZAMP entered the market with a full adjustable device that fits children, women, and men at any size.  One device offers so much adjustment that there is no need for special sized devices.   Zamp has continued to improve the design and now offers the smallest, lightest, best range of motion device possible and it still maintained a $320 price point including quick release hardware. 
Why can't I just wear a neck roll or neck collar?  Unfortunately, these units provide very little protection if any.  Several reports indicate that they may actually cause neck and spine damage upon compression.   The SFI 38.1 device is actually fully capable of preventing the life ending injury that has taken several lives. 
Will the SFI 38.1 device keep me from breaking my neck?   This is a huge myth and most drivers have been lead to believe it will.  This absolutely NOT true.  In fact, the device may actually cause you to break your neck as opposed to causing a basilar skull fracture.  What?  It can make me break my neck?  Yes!  Here is why.  The energy from the impact must go somewhere. Without the device your heavy head and helmet are basically swinging around like a pendulum. Think bobble head doll. Basically, that's you in the race car. The device takes that energy and relocates it to dissipate the energy and impact.  In some cases, it may cause a bone to be broken rather than a basilar skull fracture, which is life ending.  So, a broken neck can easily be fixed. Basilar skull injuries are final and there is no do over.
There are lots of great products in the marketplace. We'd love to show you the benefits and features of the ZAMP line of head and neck restraints and help you race a little safer!