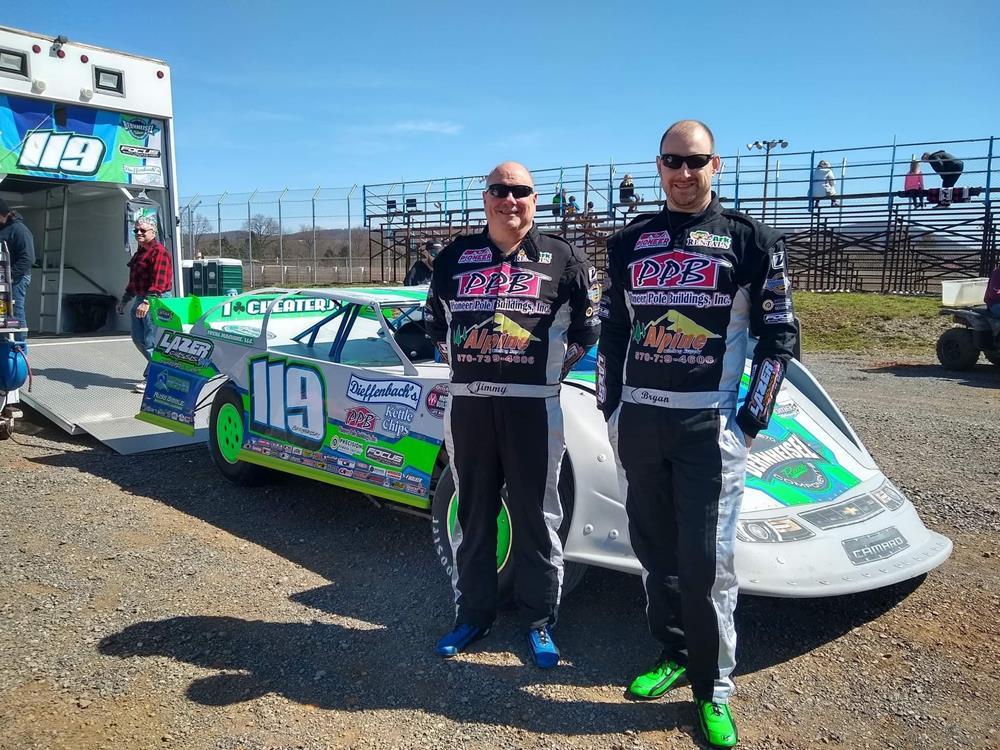 So, the Daytona 500 has ended and you just realized that you haven't touched that fender beaten, oil leaking, flat tired racecar since the last time you drove it. Hmm, better get busy and oh yeah, find some sponsors too.  The sad fact is, this is actively what's happening all over the US and Canada right now.  We've neglected our cars, engines, tires, and haulers, and now we only have a few short weeks to get them ready.  To say we are "unprepared" would be an understatement.  
Now, in haste and hurry we'll call around chasing parts and getting our friends and family to come help us clean, tear down, and reassemble. During these calls, we hit a eureka moment and suddenly remember that our hobby is insanely expensive.  Hey! Let's start sending out sponsorship proposals and applications, hitting up everyone we think has money on social media, and get some cash in the race account. 
Here's where things get hairy and the real frustration begins.  Though you haven't thought about prepping your car and haven't really started getting ready for the race season most sponsors have already set budgets and have allocated funds to the upcoming season last year!  What??  I said what I said.  That's right. Real businesses plan for advertising and marking the year before it actually happens.  Most companies entertain sponsorship applications in August, September, and October of the year before.  This allows them to analyze, prepare, and run a strong campaign.  Time to get decals, shirts, banners, wraps, and other items that make a program successful. There are some exceptions to the rule, but the early bird gets the worm 99% of the time. Image and preparedness are king when it comes to chasing money. Get your stuff in early. Spend a few bucks and get a nice concept drawing done of how your car, suit, and hauler may look if you were to partner with the company that you're pitching.  Send it in on September 1st and follow up every 2 weeks with a call, email and text.   Not one, but all three!
Here's a less than popular argument…. Your performance on the track has little to do with how much money you'll get from sponsors. Businesses need the cash register to ring and your win Saturday night likely won't do the job by itself.  Yes, the decal is cool,the suit looks bad to the bone, and the win by .00007 over second place on the outside was impressive to everyone that saw it. Unfortunately, that win doesn't make the phone ring on Monday at Big Al's Pizza and bait shop.  There are hundreds of things we can do to make the phone ring, but another win won't likely create a pepperoni shortage in your area.  Sponsors want spokespeople. They want to feel good. They want positive exposure. They want community involvement.  Ultimately sponsors want to build lasting relationships.  It's just as hard for them to start a new program each year as it is for you to find new sponsors each year.  Build it strong the right way and it will last. 
Sponsorship vs Charity.  This one will most likely ruffle the ole feathers. There is a huge difference between sponsorship and charity.  Sponsorship includes many elements. Sponsorship also means building a working and mutually beneficial relationship.  Charity means you got a check or some cash, threw a decal on the car, and moved on.  Both have their place, but consider this before taking a check for a decal option. Can I really help this company achieve their goals?  Does my program benefit them as much as the check will benefit me?  Can I actually deliver what I have promised?  If you can't answer yes to all of these questions then you're likely chasing charity and not a sponsor.  Why does it matter?  I know firsthand that by helping folks achieve their sales and marketing goals that $500 check in time turns to $5,000, $50,000 and even more. Don't chase that check just yet. Get your program clean and chase a long term sponsor who will help you as you help them grow. 
While we are here, let's talk about that sponsor decal and the value.  You are asking a company to pay you to put their decal on your car. This is a car that will sit inside a garage all week until race day and nobody will see it other than your crew.  You'll load it into an enclosed trailer and haul it to a track where you'll unload it in the pits. The pits are typically where fans can't come without the purchase of an armband. Right after hot laps the decal will likely be covered by mud or rubber and few will actually be able to read it at speed. Think about this… your F150 has a Yeti, Costa, and Hoosier decal on it.  You drive it 80 miles each day and thousands see your truck and those decals.  Yet, you've not charged any of these brands anything. In fact, you likely paid for the sticker to put on your truck.  Big Big Al's Pizza has to fork over the cash to be on the racecar that 2-900 fans will see on a weekly basis (some of you may be lucky and have thousands of fans that still can't read the decal at speed). Not to mention the Sunoco, Oakley, and Simpson decal on your trailer all along for the free ride.  Simpson even tricked you into spending $1000 to wear a suit with their brand on the chest, but poor ole Big Al's Pizza, he's gotta pay to play.   Doesn't seem too fair does it? How do we give that value?  How do we make the sticker a tiny part of the program?  We will cover that in great detail in a coming post. You'll want to read it several times as we will tell you how to make this work from start to finish.  Maybe even catch us at one of the many Race Clinics around America for our sponsorship class. 
Does Velocita sponsor?  Absolutely!  We spend more than $100,000 each year.  Guess how we decide who gets sponsored?  Hmm, I bet you already know.  The last minute pleas, Facebook messages, texts, calls, and emails are fun but we are locked up and did so by the end of October last year. We ran a promotion during August and September stating the upcoming sponsorship year and the items required to be considered.  What do we look for in a team?  All of the same parts that the corporate brand desires.  Can you sell products? Will you be a good match for our brand and goals?  Are you in the middle of negative controversy and strife?  Can you help us reach our marketing and advertising goals?  We recently dropped a very well known and mostly nationally loved team because of political statements and hypocrisy. Don't show us one thing or pretend to be something that you're not. Genuine you will always be the best you. 
Well that's great but I'm broke right now and want to go race. What do I do about this year?  I'd suggest the same thing you have done each year in the past. Go beat on doors and hope for the best. Maybe it will work great, maybe it won't work at all.  While you're sitting in pits looking at the slick wrapped well funded team across from you remember they are building a lasting relationship with your favorite pizza place!  It could have been you!
Sponsor is the correct spelling, not Sponcer.  When your phone, tablet or PC underlines it, make the change!!